CD Reviews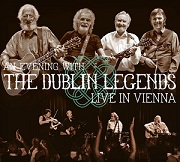 TRACK LIST
1. Welcome
2. The Irish Washerwoman
3. The Ferryman
4. The Rare Aul' Mountain Dew
5. All For Me Grog
6. The Belfast Hornpipe / The Flowers Of Red Hill
7. Fáinne Geal An Lae
8. I'll Tell Me Ma
9. Song For PJ
10. Shores of Americay
11. Billy In The Low Ground / The Moving Cloud
12. The Town I Loved So Well
13. When The Boys Come Rollin' Home
14. Dicey Reilly
15. Cooley's Reel / The Dawn / The Mullingar Races
16. The Spanish Lady
17. Dirty Old Town
18. Whiskey In The Jar
19. Molly Malone
Read our album review by clicking here
SONGLINES July 2014
Reviews
The Dublin Legends
Live in Vienna
Blue Groove 3232
* * * *
The name may change but the song remains the same
The death of The Dubliners' 'Banjo' Barney McKenna in 2012 saw the surviving band members – Sean Cannon, Eamonn Campbell and Patsy Watchorn – retire the venerable name before re-forming as THE DUBLIN LEGENDS with fresh blood injected into the mix by erstwhile Four Men and a Dog stalwart Gerry O'Connor, the new quartet's debut on disc suggests its very much business as usual, name change or not.
Recorded live before a clearly appreciative audience in Vienna's Metropol in September last year, this first outing is a familiar, tried-and-tested blend of rousing instrumentals, bittersweet ballads and crowd-pleasing sing alongs and foot-stompers.
With a combined age of 209, Cannon, Campbell and Watchorn may well be past their best vocally, but instrumentally they play with a vigour and verve that few others can match: O'Connor in particular happily displaying the same virtuosic panache and obvious relish for making music.
They're at their best in set-piece instrumentals, and there's almost as much pleasure to be found in the banter and blarney of the spoken asides. Poignantly released the day before the death of the Chieftains veteran tin whistle player Sean Potts.
Live in Vienna suggests there' s plenty of mileage in the Dubs yet. – Michael Quinn