Eamonn Campbell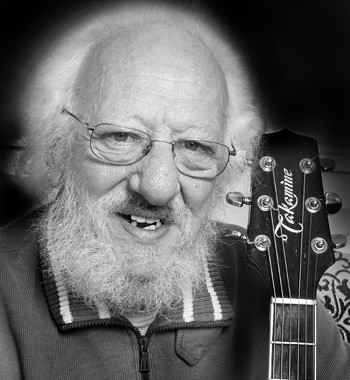 Eamonn was born in Drogheda, County Louth. As a boy he wanted to play the Accordion. However, around 1954/55 on Radio Luxembourg he heard Elvis singing "That's All Right" and from then on he pestered his mother to get him a guitar. In the early 60's he played with 'The Viceroys' and then 'The Delta Boys' under a brilliant musician-pianist, Louis Smith. Eamonn credits Louis with teaching him more about chord sequences and chord structure than could ever be found in books. At this time he also joined the local Brass and Reed Band so he could learn to read music. In 1964 Eamonn joined a Showband, 'Dermot O'Brien & The Clubmen'. They appeared on a weekly RTE TV show "Jamboree" and the band had a massive hit record in Ireland with a song entitled "The Merry Ploughboy" which also proved to be very popular with Irish people living in England. It was at this time (1967) when they embarked on a hugely successful concert tour of England in conjunction with The Dubliners. Immediately he struck up a friendship with 'The Dubs' and many a pint he had with Luke & Ronnie over the following years.
In 1973 Eamonn got tired of "the road", his marriage had broke up so he moved to Dublin to try his hand at being a free-lance musician. After a brief residency at Gulliver's Inn a well-known cabaret venue he headed to the USA gigging in Irish pubs. Retuning in mid 1974 he got a gig playing in the pit orchestra at The Gaiety Theatre for Maureen Potter's summer show, Gaels of Laughter. As a result he started getting gigs as a session musician on guitar, banjo and mandolin and over the subsequent years he played on hundreds of recordings. He has appeared on numerous Radio & TV programs with both the RTE Concert and Symphony Orchestras. He played guitar in theatre productions of Joseph, Jesus Christ Superstar, West Side Story and many pantomimes. Over the years he toured Ireland with various artistes-Peters and Lee, Kevin Johnson, Cilla Black and Irish artistes Paddy Reilly, Twink, Brendan Grace and of course The Dubliners. He also began producing and arranging songs and music for recording sessions (Paddy Reilly's "Fields of Athenry" and "The Flight Of Earls", Foster and Allen's "Maggie" are some that spring to mind) and he arranged and produced an album for American C/W artiste Billy Joe Spears. In 1981 he played guitar with the RTECO for The Eurovision Song Contest in Dublin.
In 1986 Ronnie and John asked him to produce a record to celebrate their 25th anniversary the following year. Eamonn suggested that they invited various artistes to perform on it and make it a double album, he also suggested naming it "Celebration". When he said he'd like to ask The Pogues to be part of it, Ronnie's reaction, in his inimitable voice, was "The Pogues? My Jaysus!!!!" and the rest as they say is history. In March '87 Eamonn was part of "The Late Late Show" special celebrating their Silver Anniversary (it was the longest and most watched Late Late Show in it's history, and still is). Following on from this Eamonn became part of The Dubliners. During 1987 Eamonn recorded a Solo album on the Mandolin called 'Romantic Rhapsody' backed by none other than the RTE Concert Orchestra.
Eamonn has 6 children-Paddy, Eamonn (Jacko), Franky, EmmaJane (EJ), Niamh and Ciara and 10 grand children (4 girls 6 boys). He's married to Noreen and their daughters, Niamh and Ciara, are 21 and 19 respectively. In January 2013 he had a successful (obviously) operation for Lung Cancer, as he says himself, "Someone up there likes me"! However, Eamonn passed away in October 2017 after a short illness.